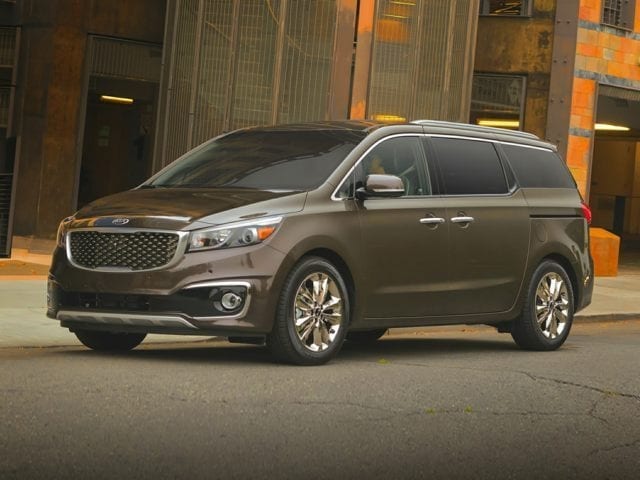 See how the Kia Sedona stacks up to the competition here in Duluth
Here in the greater Atlanta, GA area, minivans have always been an attractive and compelling option for folks with growing families. And of all the minivans on market today, none are as attractive and feature-forward as the new Kia Sedona. Of course, here at Rick Case Kia, we know that's a bold assertion to make without evidence to back it up. So, to help drivers from Atlanta to Lawrenceville to learn more about the new Kia Sedona and how its stacks up to its competitors, we've prepared a brief competitive breakdown below.
Kia Sedona vs. Toyota Sienna
Pricing: If you're looking for an economical minivan near Johns Creek, GA, you'll find the new Kia Sedona to be a much more appealing option. With a starting MSRP of  $27,000, the new Kia Sedona is more affordable than the Toyota Sienna, which rings in at around $30,750 MSRP.
Fuel Capacity: Want to spend more time on the roads of Norcross, GA and less time at the pump? The Kia Sedona has a greater fuel tank capacity than the Toyota Sienna, meaning you won't have to stop for gas as often.
Warranty: Want peace of mind with your next minivan purchase? Choose the new Kia Sedona and enjoy powertrain limited warranty coverage for up to 10 years or 100,000 miles, whichever comes first. Choose the Toyota Sienna and you'll have to make do with just 5 years or 60,000 miles of powertrain limited warranty coverage
Satellite Radio:Love listening to your favorite tunes on your daily drives to nearby Atlanta, GA for work? The Kia Sedona features standard satellite radio, while the Toyota Sienna doesn't.
Passenger Capacity: Both the Kia Sedona and Toyota Sienna can seat up to seven passengers, but overall, the Kia Sedona has a greater interior volume, meaning you and your loved ones will have much more room to stretch out on long road trips.
Rear Seat Entertainment System Availability: If you need a way to keep your kids occupied while you run errands around Duluth, GA, the Kia Sedona can be outfitted with an available rear seat entertainment system that's perfect for doing just that. However, if you want a comparable rear seat entertainment system on the Toyota Sienna, you'll have to shell out more cash for a higher trim level that has other features you may not want or need.
YES® Essentials Upholstery: Every parent knows that spills happen in the car, but with the available YES® Essentials stain-resistant upholstery available on the new Kia Sedona, it's much easier to clean up. By comparison, the Toyota Sienna lacks comparable stain-resistant upholstery.
Kia Sedona vs. Chrysler Pacifica
Cargo Space: Frequently find yourself making trips to the hardware store in nearby Lawrenceville to pick up supplies for weekend projects around the house? Whether it's gear or groceries, you'll find that the Kia Sedona offers more cargo space than the Chrysler Pacifica for whatever you're looking to haul.
Warranty Coverage:Like Toyota Sienna before it, the Chrysler Pacifica only offers 5 years or 60,000 miles of powertrain limited warranty coverage, which is easily outclassed by the 10 year or 100,000 mile powertrain limited warranty of the Kia Sedona.
Satellite Radio:Long drives are markedly more enjoyable when you can listen to your favorite radio stations, and with the standard satellite radio on the Kia Sedona, you can do just that. Once again, the Chrysler Pacifica doesn't have standard satellite radio.
Passenger Capacity: A minivan simply wouldn't be a minivan without seating for seven passengers, but while both the Kia Sedona and Chrysler Pacifica tick that box, the Kia Sedona still edges the competition out with a bit more overall volume in its cabin.
Entertainment System Availability: The Chrysler Pacifica features a sophisticated rear seat entertainment system designed to keep your kids occupied on longer trips, but unfortunately, it's only available on its highest, priciest trim levels. Fortunately, you can equip an outstanding rear seat entertainment system to any trim for the Kia Sedona, making it a better fit for families overall.
YES® Essentials Upholstery:Whether its crushed-up cookies or that dreaded grape juice, the YES® Essentials stain-resistant cloth upholstery available on the Kia Sedona makes even the most troublesome of spills a breeze to clean up.  Unfortunately for Chrysler Pacifica owners, no such stain-resistant upholstery is available on that model.
Lounge Seating: In addition to its ample interior room, it's easy to get comfortable in the Kia Sedona with its available second row lounge seating. As for the Chrysler Pacifica, it's not only less specious on the inside, but it also lacks comparable lounge seating options.
If you'd like to learn more about the new Kia Sedona, don't hesitate to stop by Rick Case Kia in Duluth, GA for a test drive today!